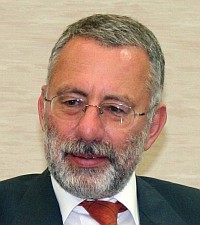 Prof. Dr. Winfried Lamersdorf
Professor
Contact
| | |
| --- | --- |
| eMail | winfried.lamersdorf@uni-hamburg.de |
| Room | F507 |
| Phone | +49-40-42883-2421 |
| Fax | +49-40-42883-2328 |
| WWW | http://vsis-www.informatik.uni-hamburg.de |
Supervised Dissertations
19 of 30 (+ more)
Research Projects
Smarte Netze zur urbanen Bürgerbeteiligung

Future Transport Hamburg

Linked Forever Young Production Automation with Active Components

DFG Priority Programme 1593/2 (In cooperation with HSU, Hamburg)

Forever Young Production Automation with Active Components

DFG Priority Programme 1593 (In cooperation with HSU, Hamburg)

Selbstorganisation durch dezentrale Koordination in Verteilten Systemen

DFG Normalprogramm (In cooperation with HAW Hamburg)

Goal-orientation for Flexible business processes

DFG Transfer-Projekt (In cooperation with Daimler AG, Böblingen)

Software Services and Systems Network

EU FP7, Network of Excellence

Medical Path Agents

DFG SPP 1083 (In cooperation with U Bayreuth and U Mannheim)

European Coordination Action for Agent-Based Computing

EU 6th Framework Program

Foundational Research on Service Composition

Hewlett-Packard Laboratories, Bristol, UK

Dynamically Configurable Software

DFG Normalprogramm

Teilprojekt: PublicationPORTAL

BMBF

Common Open Service Market for SMEs

EU ESPRIT (5th Framework Programme)

Tools for an Integrative view of Distributed Environmental data

GKSS Forschungszentrum

The Digital Computer Science Library

BMBF

GMD Forschungszentrum Informationstechnik, Berlin

Open Service Model

EU ACTS (5th Framework Programme)

GMD Forschungszentrum Informationstechnik, Berlin

Kontextdatenvermittlung in mobilen ubiquitären Systemen

Consensus and Distributed Code Execution for Information Markets and Applications

Jadex Event Stream Processing Architecture

Distributed Environment for Mobility-Aware Computing

A System Software Infrastructure for Mobile Cloud Computing
Curiculum Vitae
Winfried Lamersdorf is full Professor in the Department of Computer Science of Hamburg University and head of the "Distributed Systems" (Verteilte Systeme, VSIS) unit there.
From 1974 to 1980 he studied computer science at the Technical University of Munich and University of Hamburg, and spent a year as guest scientist at the University of Maryland, USA, in collaboration with the 'National Institute of Standards and Technology' (NIST) in Washington/DC.
In 1985 he received his doctorate for work in the field of database languages and semantic data models.
From 1983 to 1990 he was a staff-member in the 'Distributed Applications' research group at the IBM Scientific Center (WZH, 1983/84) and in the IBM 'European Networking Centre' (ENC, 1984-90) in Heidelberg. There he started concentrating on Open Systems communication in general, and communication support for database and distributed applications specifically.
Since then, he has lead several research projects financed from various sources and (co-) authored and edited numerous scientific papers as well as a number of books.
After calls to chairs at the Technical University Braunschweig in 1991 and to Kiel University in 2004 he accepted respective offers to stay at Hamburg university.

Research Profile
Distributed Systems and Applications - such as:
application-layer communication, system support for open distributed systems, middleware (including service trading/brokerage, web services etc.), service-oriented computing (SOA), web services, open distributed software architectures and applications (client/server and beyond, componentware, multi-media, etc.), agent-oriented software construction, distributed co-ordination and co-operation (e.g. business process & workflow management and mobile/multi agent technology), mobile, ubiquitous, and pervasive systems, self-organization, as well as application of such technologies in specific distributed application areas, generally called "E-Services" - such as E-Business/E-Commerce, E-Health, Electronic Libraries, Environmental Information Systems, etc.
Professional Activities
Organization of Major Scientific Events
2011: General Co-Chair, 9th International Conference on Service Oriented Computing (ICSOC 2011), Paphos, Cyprus,
2010: Co-Chair, International IFIP Conference on "E-Government and E-Services: Challenges, Techniques, Opportunities & the Road Ahead" (EGES 2010), IFIP World Congress, Brisbane, Australia,
2009: General Chair, 7th German Conference on Multiagent technology (MATES 2009), Hamburg,
2008: Workshops Co-Chair, 6th International Conference on Service Oriented Computing (ICSOC 2008), Sydney, Australia (together with G. Feuerlicht, UTS Sydney & VSE Prague),
2006: PC Co-Chair, 4th International Conference on Service Oriented Computing (ICSOC 2006), Chicago, USA, December 2006 (together with A. Dan, IBM Research, Hawthorn, NY, USA),
2005: PC Co-Chair, 3rd German Conference on "Multi-Agent System Technologies" (MATES 2005), Koblenz (together with M. Huhns, H. Klusch, T. Eymann, and F. Klueg),
2004: PC Co-Chair, 4th International IFIP Conference on "E-Commerce, E-Business, and E-Government" (I3E 2004) at the 19th IFIP "World Computer Congress" in Toulouse, France (together with V. Tschammer, Fraunhofer FOKUS Berlin, and S. Amager, Hitachi Labs, Sophia Antipolis, France),
2001: Co-host and PC Co-Chair,12th joint GI/VDE ITG Fachkonferenz "Kommunikation in Verteilen Systemen" (KiVS01) in Hamburg (together with U. Killat, TU Hamburg-Harburg),
1998: Host and PC Chair, 1st International IFIP TC6 Working Conference on "Trends in Electronic Commerce" (TREC98) in Hamburg (together with M. Merz, Uni Hamburg),
1994: Chair, Fachgespräch "Systemtechnische Unterstützung verteilter Multimedia-Anwendungen: Beiträge aus den Bereichen Kommunikation und Verteilte Systeme, Datenbanken und Betriebssysteme", 24. GI-Jahrestagung and 13. IFIP Computer World Congresses, Hamburg,
1989: Chair, International Symposium on ?Databases in Open Computer Networks? Johann Wolfgang Goethe-Universität, Frankfurt, and IBM Germany in cooperation with Gesellschaft für Informatik (GI), Frankfurt, and
1987: PC Chair, IFIP WG 8.4 International Workshop on ?Knowledge Representation, Management, and Utilization in the Office?, University of Toronto, Canada, 1987.
Professional Roles and Functions:
a) internal
Speaker, FBI Center for 'Complex Systems Engineering' (CSE) (since 2011)
Member, FBI erw. Vorstand Informatik (2008-2019)
Department Information Officer (DIO) Informatik (2008-2020)
Member, IKT-Ausschuss Informatik (2008-2020)
Member, MIN IT-Ausschuss (2008-2019)
Member and Chair, Wirtschaftsausschuss Informatik (1995-2020)
Dep. Member, Promotionsausschuss MIN-FAR (2010-2016?
Member, Fachpromotionsausschuss Informatik (2011-2019)
Member, Wissenschaftlicher Beirat kaufmännische Ressourcensteuerung der UHH (2011-2015?)
Member, var. 'Berufungskommissionen' (committees for academic staff recruiting)
former:

Chair, Department of Informatics (Febr. 2006 - March 2008)
Dep. Dean for Research (Mar. 2002 - Sept. 2004)
Speaker, Center for 'Distributed Information and Communication Systems' (VIKS, 2004-2011)
Chair 'Bibliotheksausschuss' - FB Informatik (1994-2006)
Member 'Fachbereichsrat', FB Informatik (1992-2006)
Member, Fakultätskammer, MIN-Fakultät (2006-2008)
Member, Promotionsausschuss Informatik (2001-2010-2019)
Dep. member, Senatsausschuss für ADV - Uni HH (2002-2007)
Member, Nutzerbeirat der Staats- und Universitätsbibliothek der BWF (2002-2008)
div. committees for academic staff recruitment - internal & external
etc.
b) external
Board member (Leitungsgremium), GI-Fachgruppe "Kommunikation und Verteilte Systeme" (KuVS - since 1997)
Board member (Vorstand), Technology transfer institute "Hamburger Informatik Technologie Center e.V." (HITeC - since 1998)
German national delegate to IFIP TC 6 on 'Communication Systems': since 2017
Co-Chair/Secretary of IFIP WG 6.11 on 'Communication Aspects of the e-World' (formely: 'E-Commerce', since Jan. 2006)
Vice-Chair of IFIP WG 2.14 on 'Service-oriented Systems' (since 2010/11-2019)
Member "Gesellschaft für Informatik" (GI), Fachgruppen 'Kommunikation und Verteilte Systeme' (KuVS), 'Datenbanken' (DB), 'Betriebssysteme' (BY), and 'Electronic Commerce' (EC)
Member "Association for Computing Machinery" (ACM), USA
Member "IFIP/TC 6" ('Communication')
former:

Secretary of IFIP WG 8.4 on 'Office Information Systems' (1987-1990, Dept. 1985/86)
German delegate to DIN/ISO JTC1 (1987-1994)
Delegate IBM Europe & Work Group chair, 'European Computer Manufacturers Association' (ECMA) (1986-1990)
etc.
Publications
10 of 207 (+ more)
2022

In:

ACM Transaction on Internet of Things (TOIT)

In:

ACM Transactions on Internet of Things (TIOT)

2021

In:

Proceedings of the International Conference on Networked Systems (NetSys 2021)

In:

Journal of Ambient Intelligence and Humanized Computing

2020

In:

2nd International Electronics Communication Conference (IECC 2020)

2019

In:

The 14th International Conference on Future Networks and Communications (FNC 2019) / The 16th International Conference on Mobile Systems and Pervasive Computing (MobiSPC 2019) / Affiliated Workshops, August 19-21, 2019, Halifax, Nova Scotia, Canada

In:

Managed Software Evolution

In:

Managed Software Evolution

In:

2019 26th International Conference on Telecommunications (ICT)

2018

In:

AT - Automatisierungstechnik

⇓ Click here for 197 more lines ⇓

In:

AT - Automatisierungstechnik

In:

Proceedings of ESOCC 2018 Workshops

In:

DFG SPP1593 - Book of Results

In:

DFG SPP1593 - Book of Results

In:

16th IFAC Symposium on Information Control Problems in Manufacturing

In:

Journal of Ambient Intelligence and Humanized Computing

In:

Transactions on Emerging Telecommunications Technologies

2017

In:

Computer Science and Information Systems

In:

Intelligent Distributed Computing XI

In:

IEEE 15th International Conference of Industrial Informatics INDIN 2017

2016

In:

2016 IEEE 1st International Workshops on Foundations and Applications of Self* Systems (FAS*W)

In:

The 11th International Conference on Future Networks and Communications (FNC 2016) / The 13th International Conference on Mobile Systems and Pervasive Computing (MobiSPC 2016) / Affiliated Workshops, August 15-18, 2016, Montreal, Quebec, Canada

In:

Intelligent Industrial Systems

2015

Marijn Janssen, Matti Mäntymäki, Jan Hidders, Bram Klievink,

Winfried Lamersdorf

, Bastiaan van Loenen, Anneke Zuiderwijk

In:

Open and Big Data Management and Innovation

In:

8th IFIP Wireless and Mobile Networking Conference, WMNC 2015, Munich, Germany, October 5-7, 2015

In:

The 10th International Conference on Future Networks and Communications (FNC 2015) / The 12th International Conference on Mobile Systems and Pervasive Computing (MobiSPC 2015) / Affiliated Workshops, August 17-20, 2015, Belfort, France

In:

IFIP/IEEE International Symposium on Integrated Network Management, IM 2015, Ottawa, ON, Canada, 11-15 May, 2015

Birgit Vogel-Heuser, Stefan Feldmann, Jens Folmer, Matthias Kowal, Ina Schäfer,

Jan Ladiges

, Alexander Fay,

Christopher Haubeck

,

Winfried Lamersdorf

, Sascha Litty, Timo Kehrer, Matthias Tichy, Sinem Getir, Mattias Ulbrich, Vladimir Klebanov, Bernhard Beckert

In:

13th IEEE International Conference on Industrial Informatics (INDIN)

In:

IEEE International Symposium on Industrial Electronics (ISIE)

In:

Advances in Service-Oriented and Cloud Computing

In:

15th IFAC/IEEE/IFIP/IFORS Symposium on Information Control Problems in Manufacturing (INCOM)

In:

8th International Symposium on Intelligent Distributed Computing (IDC-2014)

In:

Journal of Concurrency and Computation: Practice and Experience

In:

IEEE International Conference on Industrial Informatics (INDIN)

2014

In:

Service-oriented Computing: ICSOC 2015 Workshops

In:

Journal of Universal Computer Science

In:

at - Automatisierungstechnik

In:

IECON 2014 - 40th Annual Conference of the IEEE Industrial Electronics Society

In:

Emerging Technologies & Factory Automation (ETFA) - Proceedings of the 19th IEEE International Conference on Emerging Technologies and Factory Automation

In:

In Tagungsband 16. Workshop Software-Reengineering und -Evolution der GI-Fachgruppe Software Reengineering (SRE)

In:

1st Collaborative Workshop on Evolution and Maintenance of Long-Living Systems (EMLS 2014)

2013

In:

Software: Practice & Experience (SPE)

In:

Emerging Technologies & Factory Automation (ETFA) - Proceedings of the 18th IEEE International Conference on Emerging Technologies and Factory Automation

In:

International Conference on Industrial Informatics (INDIN) 2013 - Proceedings of the 11th International Conference on Industrial Informatics

In:

Advanced Intelligent Computational Technologies and Decision Support Systems

In:

Tenth International Workshop on Programming Multi-Agent Systems (ProMAS'12)

In:

E-Business and Telecommunications: Revise selected papers of ICETE 2011, Seville, Spain

In:

Collaborative, Trusted and Privacy-Aware e/m-Services

In:

Networked Systems 2013

In:

Electronic Communications of the EASST, Volume 56 (2013)

In:

Intelligent Distributed Computing VI - Proceedings of the 6th International Symposium on Intelligent Distributed Computing

In:

Advanced Computational Technologies

2012

In:

Service-Oriented Computing - ICSOC 2011 Workshops

In:

SRII Global Conference' (SRII 2012), San Jose, CA, USA

In:

The Sixth International Conference on Complex, Intelligent, and Software Intensive Systems (CISIS 2012)

In:

First International Workshop on European Software Services and Systems Research - Results and Challenges (S-Cube)

In:

Smart Mobile Apps, Kapitel 20

2011

In:

International Journal on Artificial Intelligence Tools (IJAIT)

In:

Languages, Methodologies, and Development Tools for Multi-Agent Systems

In:

Proc.s International Conference on Security and Cryptography (SECRYPT) - The International Joint Conference on e-Business and Telecommunications (ICE-B)

In:

11th IFIP International Conference on Distributed Applications and Interoperable Systems (DAIS 2011)

In:

Enterprise Information Systems

In:

ICSOC 2010 International Workshops

In:

Workshops der wissenschaftlichen Konferenz Kommunikation in verteilten Systemen 2011 (WowKiVS 2011)

In:

17th GI/ITG Conference on Communication in Distributed Systems (KiVS 2011)

2010

Francois Hantry, Mike Papazoglou, Willem-Jan van den Heuvel, Rafique Haque, Eoin Whelan, Noel Carroll, Dimka Karastoyanova, Frank Leymann, Christos Nikolaou,

Winfried Lamersdorf

, Mohand-Said Hacid

In:

Service Research Challenges and Solutions

In:

Proc. International Conference on e-Business, e-Services and e-Society (I3E)

In:

Systemy Informacyjne W Zarzadzaniu

In:

3rd International Conference on Business Process and Services Computing (BPSC 2010)

In:

E-Government, E-Services and Global Processes

In:

Proc. 4th International Symposium on Intelligent Distributed Computing (IDC-2010)

In:

Third international Workshop on LAnguages, methodologies and Development tools for multi-agent systemS (LADS010)

In:

Service-Oriented Computing. ICSOC/ServiceWave 2009 Workshops

In:

Journal of Systems Integration (JSI)

In:

12th International Conference on Enterprise Information Systems (ICEIS)

In:

Proceedings of the 10th IFIP International Conference on Distributed Applications and Interoperable Systems (DAIS 2010)

In:

Cybernetics and Systems 2010 - Proceedings of the 20th European Meeting on Cybernetics and Systems Research (EMCSR 2010) - International Workshop From Agent Theory to Agent Implementation (AT2AI-7)

In:

Proceedings of the 2010 ACM Symposium on Applied Computing

In:

Computer Journal, Special Issue on Agent Technologies for Sensor Networks

2009

In:

AIS Transactions on Enterprise Systems

In:

Business and Information Systems Engineering (BISE)

In:

Seventh German conference on Multi-Agent System TEchnologieS (MATES-2009)

In:

Proceedings of the 9th IFIP Conference on e-Business, e-Services, and e-Society (I3E 2009)

In:

WIRTSCHAFTSINFORMATIK

In:

Second International Workshop on Nonlinear Dynamics and Synchronization

In:

Programming Multi-Agent Systems (ProMAS-6)

In:

Service-Oriented Computing - ICSOC 2008 Workshops

In:

Proceedings des Workshops über Selbstorganisierende, adaptive, kontextsensitive verteilte Systeme (KIVS 2009)

2008

In:

11th International Conference on Business Information Systems (BIS 2008)

In:

Hamburg International Conference on Logistics 2008: Logistics Networks and Nodes

In:

From Agent Theory to Agent Implementation (AT2AI-6)

2007

In:

Konferenzband zur KiVS 2007 für Industrie-, Kurz- und Workshopbeiträge

In:

Developing Multi-Agent Systems with JADE

2006

In:

International Transactions on Systems Science and Applications (ITSSA)

In:

Computer Systems Science & Engineering

In:

Multiagent Engineering - Theory and Applications in Enterprises

In:

Applied Artificial Intelligence

In:

The 3rd International Workshop on Programming Multiagent Systems (PROMAS-2005), in conjunction with 4th International Joint Conference on Autonomous Agents & Multi-Agent Systems (AAMAS 2005)

In:

Proceedings of the 6th IFIP WG 6.1 International Conference on Distributed Applications and Interoperable Systems (DAIS 2006)

In:

The 4th International Workshop on Programming Multiagent Systems (PROMAS-2006)

In:

The 5th International Workshop on Programming Multiagent Systems (PROMAS-2006)

2005

In:

it - Information Technology

In:

Challenges of Expanding Internet: E-Commerce, E-Business, and E-Government: 5th IFIP conference on e-Commerce, e-Business, and e-Government (I3E 2005)

In:

Lecture Notes in Artificial Intelligence, vol. 3550

In:

The 2005 IEEE/WIC/ACM International Conference on Intelligent Agent Technology (IAT-2005)

In:

Third German conference on Multi-Agent System TEchnologieS (MATES-2005); Springer-Verlag, Berlin Heidelberg New York, pp. 82-94

In:

Multi-Agent Programming

In:

Software Agent-Based Applications, Platforms and Development Kits

In:

5th International Workshop on Engineering Societies in the Agents World

In:

4th International Joint Conference on Autonomous Agents and Multiagent Systems (AAMAS'05)

In:

14. Fachtagung Kommunikation in Verteilten Systemen (KiVS'05)

In:

Lecture Notes in Computer Science

2004

In:

Proceedings 2nd International Conference on Service Oriented Computing (ICSOC04), November 15-18, 2004, New York City, NY, USA

In:

PIK - Praxis der Informationsverarbeitung und Kommunikation

In:

PIK - Praxis der Informationsverarbeitung und Kommunikation

In:

Main Conference Net.ObjectDays 2004

In:

Building the E-Service Society: E-Commerce, E-Business, and E-Government

In:

Second International Workshop on Programming Multiagent Systems: Languages and Tools

In:

Agent-Oriented Software Engineering V, Fifth International Workshop AOSE 2004

In:

i-com: Zeitschrift für interaktive und kooperative Medien

In:

Cybernetics and Systems 2004 (Volume 2)

In:

Künstliche Intelligenz

In:

Coordination and Agent Technology in Value Networks

In:

Proceedings of the 2004 ACM Symposium on Applied computing (SAC2004), Nicosia, Cyprus

In:

IFIP International Conference on Digital Communities in a Networked Society: eCommerce, eBusiness, and eGovernment (I3E) 2003

In:

Second European Workshop on Object Orientation and Web Service (EOOWS), Oslo, Norway, 14 June, 2003

2003

In:

Accepted at Second Seminar on Advanced Research in Electronic Business (EBR03)

In:

EXP - in search of innovation (Special Issue on JADE)

In:

Mensch und Computer 2003

In:

Mensch und Computer 2003

In:

First European Workshop on Object Orientation and Web Service (EOOWS), Darmstadt, Germany, 21 July 2003

In:

Tagungsband Kommunikation in Verteilten Systemen - KiVS 2003

In:

2003 Symposium on Applications and the Internet Workshops (SAINT 2003 Workshops)

2002

In:

Interactive Systems - Design, Specification, and Verification

In:

Proceedings of the Ninth Research Symposium on Emgerging Electronic Markets (RSEEM'02)

In:

Mensch & Computer 2002 - Vom interaktiven Werkzeug zu kooperativen Arbeits- und Lernwelten

In:

Proceedings of the 3rd International Conference on Electronic Commerce and Web Technologies

In:

Proceedings of AAMAS Workshop 16 - Ubiquitous Agents on Embedded, Wearable, and Mobile Devices

In:

Uni Hamburg Dagstuhl Article

In:

13th International Workshop on Database and Expert Systems Applications (DEXA 2002), 2-6 September 2002, Aix-en-Provence, France

2001

In:

Proceedings of the IFIP/ACM International Conference on Distributed Systems Platforms (Middleware 2001), WS on Electronic Commerce

In:

Special Issue on Electronic Business Systems of the International Journal of Computer Networks and Telecommunications Networking

In:

12th International Workshop on Database and Expert Systems Applications

In:

Proceedings of the 12th ACM Conference on Hypertext and Hypermedia, University of Aarhus, Århus, Denmark

In:

Electronic Commerce Research Journal

2000

In:

Verbundtagung Wirtschafsinformatik 2000

In:

Virtuelle Organisation und Neue Medien 2000

In:

Proc. 11th International Workshop on Database and Expert Systems Applications (DEXA 2000)

In:

Proc. 4. International Enterprise Distributed Object Computing Conference (EDOC'2000)

In:

Proceedings of the 1st International Conference on Electronic Commerce and Web Technologies (EC-Web 2000)

In:

Proceedings of the 11th International Conference on Database and Expert Systems (DEXA 2000)

In:

Proc. 3rd IFIP/GI International Conference on Trends towards a Universal Service Market (USM 2000)

In:

Proceedings of the 11th International Workshop on Database and Expert Systems (DEXA 2000)

In:

Proc. 4th World Multiconference on Systemics, Cybernetics and Informatics (SCI'2000)

In:

Computer Networks, Selected Papers from the WWW9 Conference

In:

Extreme Programming and Flexible Processes in Software Engineering - XP2000

In:

Proceedings of the 9th International World Wide Web Conference, Amsterdam, The Netherlands, 15-19 May 2000

In:

XTEC'2000 Proceedings

1999

In:

Proc. IAT99 Workshop on Agents in Electronic Commerce (WAEC'99), Hongkong

In:

Proc. 3. Intl. Symposium on Mobile Agents, MA'99, Palm Springs, California

In:

Proc. 29. Jahrestagung der Gesellschaft für Informatik (Informatik'99)

In:

Distributed Computing on the Web (DCW´99), Juni 99, Rostock

In:

Proc. 29th International Conference on "Technology of Object-Oriented Languages and Systems" (TOOLS´99), Nancy, France

In:

Proc. of the Second Int. Working Conference on Distributed Applications and Interoperable Systems (DAIS'99), Helsinki, Jun. 28-Jul. 1, 1999

In:

GI/ITG-Konferenz 'Kommunikation in Verteilten Systemen' (KIVS'99), Informatik-Aktuell

In:

St. Kirn, M. Petsch. Workshop 'Intelligente Softwareagenten und betriebswirtschaftliche Anwendungsszenarien', TU Ilmenau, FG Wirtschaftsinformatik 2, Arbeitsbericht

In:

Journal on Integrated Computer-Aided Engineering

In:

International Journal on Computer-Aided Engineering, , Special Issue on 'Mobile Agents'

1998

In:

2nd Int. Enterprise Distributed Object Computing Workshop (EDOC '98)

In:

25th Annual Conferenc25th Annual Conference on Current Trends in Theory and Practice of Informatics (SOFSEM'98)

In:

International Journal on Cooperative Information Systems, Vol. 7, No. 4

In:

A. Barth, M. Breu, A. Endres, A. de Kemp (Hrsg.): Digital Libraries in Computer Science: The MeDoc Approach, vol. 1392, pp. 145-170

In:

J. Hoppe, S. Helle, H. Krasemann (Hrsg): "Vernetzte Umweltinformation", Praxis der Umweltinformatik, vol.7, pp.115-124

In:

Trends in Distributed Systems for Electronic Commerce

In:

Proc. 2. Intl. Workshop on Mobile Agents, MA'98, Stuttgart, Sept. 1998

In:

Proc. 21. 'Europäische Congressmesse für Technische Kommunikation' (On-line'98), Congressband IV, Velbert, Februar

1997

In:

: Proc. 1st International Workshop on Enterprise Distributed Object Computing, 20.-24. October 1997

In:

Proc. of the Int. Working Conference on Distributed Applications and Interoperable Systems (DAIS'97)

In:

Proc. Intl. Workshop on Mobile Agents, ?97, Springer LNCS, Berlin, April ?1997

In:

International Journal on Applied Artificial Intelligence, 11(6), September 1997, S. 551ff

In:

H. Mucksch, W. Behme (Hrsg.) Das Data Warehouse-Konzept

1996

In:

Beherrschung von Informationssystemen, Tagungsband der Informatik'96, Schriftenreihe der Österreichischen Computer Gesellschaft Nr. 88

In:

Proc. PAAM96 Conference on the Pracical Application of Agents and Multiagent Systems, London 1996

In:

ICDP96, 27. Feb. - 1. Mar. 1996

In:

Proc. Intl. Workshop on Trends in Distributed Systems, Aachen, Oct. 1st-2nd 1996

In:

Proc. Intl. Workshop on Trends in Distributed Systems, Aachen, Oct. 1st-2nd 1996

1995

In:

W. Schertler, B. Schmid/A M. Tjoa/ H. Werthner (Hrsg.): Proc. Int. Konf. 'In-for-mation and Communications Tech-no-lo-gies in Tourism' (ENTER95)

In:

K. Franke/ U. Hübner/ W. Kalfa (Hrsg.), Proc. GI/ITG-Konf. 'Kom-mu-nikation in Verteilten Systemen' (KIVS'95)

In:

Workshop on Applications of Petri Nets to Protocols, Proceedings 16th International Conference on Application and Theory of Petri Nets, 1995

In:

Tagungsband First International Workshop on High Speed Networks and Open Distributed Platforms, St. Petersburg, Juni 1995

In:

Tagungsband der GISI 95 -- Herausforderungen eines globalen Informationsverbundes für die Informatik, Zürich, 1995

In:

Tagungsband der GISI 95 -- Herausforderungen eines globalen Informationsverbundes für die Informatik, Zürich 1995

In:

Tagungsband der GISI 95 -- Herausforderungen eines globalen Informationsverbundes für die Informatik, Zürich, 1995

In:

H. Krumm (Hrsg.), Entwicklung und Management verteilter Anwendungssysteme: Tagungsband; 2. Arbeitstreffens des GI/ITG Fachgruppe Kommunikation und Verteilte Systeme und der GI Fachgruppe Betriebssysteme; Universität Dortmund; 9./10. Oktober 1995

1994

In:

L. Svobodova (Hrsg.): Proc. 14th 'International Conference on Distributed Computing Systems', Poznan, Polen, 1994, pp. 450-457

In:

Proc. 24. GI-Jahrestagung, B. Wolfinger (Hrsg.), Informatik-Aktuell, Springer-Verlag, Berlin Heidelberg, August 1994, pp.219-226

In:

'EM - Elec-tronic Markets', In-stitute for Information Management, Universität St. Gallen, Schweiz, Heft 12, September 1994

In:

J. de Meer/ B. Mahr/ S. Storp (Hrsg.): Proc. 'InternationalConference on Open Distributed Processing' , IFIP-TransactionsC: Communication Systems, vol. C-20, Elsevier Science PublishersB.V. (North-Holland), Amsterdam London New York Tokyo, pp. 329-340

1993

In:

Proc. Intern. IFIP Workshop on Interfaces in Industrial Productionand Engineering Systems, North-Holland, 1993, pp 267-281