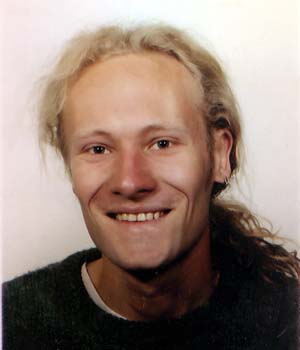 Dr. Harald Weinreich
Former Research Assistant
Contact
| | |
| --- | --- |
| eMail | weinreich@informatik.uni-hamburg.de |
| Room | F524a |
| Fax | +49-40-42883-2328 |
| WWW | http://vsis-www.informatik.uni-hamburg.de/~weinreic/ |
Research Projects
Teilprojekt: PublicationPORTAL

BMBF

Common Open Service Market for SMEs

EU ESPRIT (5th Framework Programme)

Conecpts to improve the visualization of implicit node and link types on the Web.

A Java Framework to Create Navigation Tools
Publications
10 of 25 (+ more)
2008

In:

ACM Transactions on the Web

2007

2006

In:

Mensch und Computer 2006

In:

Adaptive Hypermedia 2006

In:

WWW 2006 Workshop Proceedings: Logging Traces of Web Activity: The Mechanics of Data Collection

2005

In:

Conference on Human Factors in Computing Systems (CHI 2005), Extended Abstracts

2004

In:

Mensch und Computer 2004: Allgegenwärtige Interaktion

In:

i-com: Zeitschrift für interaktive und kooperative Medien

In:

CHI '04: Conference on Human Factors in Computing Systems

⇓ Click here for 15 more lines ⇓

2003

In:

Mensch und Computer 2003

In:

Mensch und Computer 2003

In:

Proc. of 12th International World Wide Web Conference - WWW 2003

In:

Tagungsband Kommunikation in Verteilten Systemen - KiVS 2003

2001

In:

12th International Workshop on Database and Expert Systems Applications

In:

Proceedings of the 12th ACM Conference on Hypertext and Hypermedia, University of Aarhus, Århus, Denmark

2000

In:

Virtuelle Organisation und Neue Medien 2000

In:

Computer Networks, Selected Papers from the WWW9 Conference

In:

Proceedings of the 9th International World Wide Web Conference, Amsterdam, The Netherlands, 15-19 May 2000

1999

In:

GI/ITG-Konferenz 'Kommunikation in Verteilten Systemen' (KIVS'99), Informatik-Aktuell

1998

In:

2nd Int. Enterprise Distributed Object Computing Workshop (EDOC '98)

In:

International Journal on Cooperative Information Systems, Vol. 7, No. 4

In:

GI Ergonomie & Informatik

1997

In:

WWW-Online-Publikation
Supervised Theses
10 of 12 (+ more)
2004

Diploma Thesis of Frank Wollenweber

2002

Study Thesis of Volkert Buchmann

Study Thesis of Björn Stephan

Study Thesis of Frank Wollenweber

Study Thesis of Torsten Haß

Diploma Thesis of Arne Zühlsdorff

2001

Study Thesis of Bernd Claasen, Matthias Arwe

Diploma Thesis of Hartmut Obendorf

Bacc. Thesis of Falko Nuppnau

Bacc. Thesis of Norbert Frank

⇓ Click here for 2 more lines ⇓

Bacc. Thesis of Manuel Marksteller

1999

Diploma Thesis of Martin Lippert
Internal Lectures
10 of 43 (+ more)
Oberseminar Verteilte Systeme (SS 2012)
12.04.2012 Zur Benutzbarkeit assoziativer Verknüpfungen in verteilten Informationssystemen: Entwicklung und Evaluation von Konzepten zur Optimierung der Navigation in offenen, verteilten Hypertext-Informationssystemen gezeigt am World Wide Web
Oberseminar Verteilte Systeme (WS 2011/2012)
19.01.2012 Zur Benutzbarkeit assoziativer Verknüpfungen in verteilten Informationssystemen - Entwicklung und Evaluation von Konzepten zur Optimierung der Navigation in offenen verteilten Hypertext-Systemen gezeigt am World Wide Web
Proseminar Internet-Werkzeuge (WS 2002/2003)
21.10.2002 Vorstellung, Einführung und Themenvergabe [ Folien ]
03.02.2003 Abschlussdiskussion, Feedback, Scheinvergabe
Oberseminar Verteilte Systeme und Informationssysteme (WS 2002/2003)
19.12.2002 Web-Navigation und Usability
Oberseminar Verteilte Systeme (WS 2001/2002)
06.12.2001 Stand der Dissertation Ausgewählte Themen zu den Projekten HyperScout und Scone.
Projekt Konstruktion Verteilter Systeme (WS 2001/2002)
22.10.2001 Eröffnungsveranstaltung Überblick, Teilnehmerregistrierung, Thematische Einführung in EC und E-Procurement Systeme
Oberseminar Verteilte Systeme (SS 2001)
19.07.2001 The Look of the Link - Konzepte für die Realisierung von erweiterten XLinks in Web-Browsern
Praktikum Internet-Werkzeuge (SS 2001)
04.04.2001 Platzvergabe, Gruppeneinteilung, Accounts, Einführung Thema: Grundlagen von HTML, Cascading Style Sheets (CSS)
18.04.2001 JavaScript und DOM
⇓ Click here for 33 more lines ⇓
09.05.2001 Gestaltung von WWW-Informationssystemen und weitere Bearbeitung der vorherigen Aufgabe
16.05.2001 Java Grundlagen der Objektorientierten Programmierung von Applikationen mit Java
23.05.2001 Java AWT und Hilfsklassen
13.06.2001 JDBC, Datenstrukturen in Java Zusätzlich: Exception Handling
11.07.2001 Abschlussveranstaltung Letzter Termin zur Abnahme der Aufgaben, Scheinvergabe, Feedback
Projekt Konstruktion verteilter Systeme (WS 2000/2001)
23.10.2000 Eröffnungsveranstaltung
Projektseminar Realisierung offener verteilter Anwendungen (SS 2000)
22.05.2000 XML / XSL ,,Write Once, Read Anywhere´´
29.05.2000 DOM / SAX Modelle zur Manipulation von XML-Daten
Oberseminar Verteilte Systeme (SS 2000)
20.04.2000 Generative Softwarekonstruktion (II) / Kurzbericht von der CHI 2000
08.06.2000 Neues vom Projekt HyperScout Navigation im Web leicht gemacht. Bericht von der WWW9-Konferenz.
Praktikum Internet-Werkzeuge (SS 2000)
05.04.2000 Platzvergabe, Gruppeneinteilung, Accounts, Einführung Thema: Grundlagen von HTML, Cascading Style Sheets (CSS)
19.04.2000 DHTML
10.05.2000 Gestaltung von WWW-Informationssystemen und weitere Bearbeitung der vorherigen Aufgabe
12.07.2000 Abschlußveranstaltung Abnahme der letzten Aufgaben, Scheinvergabe, Feedback
Oberseminar Verteilte Systeme (WS 1999/2000)
20.01.2000 Neue Navigationstechniken für Verteilte Informationssysteme
Proseminar Proseminar Internet-Werkzeuge (WS 1999/2000)
20.10.1999 Vorstellung, Einführung und Themenvergabe
Oberseminar Verteilte Systeme (SS 1999)
22.04.1999 Cooperative Navigation in Verteilten Hypertext-Systemen
Praktikum Internet-Werkzeuge (SS 1999)
12.04.1999 Platzvergabe, Gruppeneinteilung, Accounts, Einführung Thema: Grundlagen von HTML
10.05.1999 Gestaltung von WWW-Informationssystemen und weitere Bearbeitung der vorherigen Aufgabe
17.05.1999 Java Grundlagen der Objektorientierten Programmierung von Applikationen mit Java
07.06.1999 Thema: Java Applets Zusätzlich: Event Handling im Java AWT und die Klasse Vector
14.06.1999 JDBC, Datenstrukturen in Java Zusätzlich: Exception Handling
28.06.1999 Client-/Server-Programmierung mit Java 1. Java I/O: Streams 2. Netzwerkgrundlagen: TCI/IP-Sockets
05.07.1999 Fortführung der letzten Aufgabe Vortrag: Java Threads
12.07.1999 Abschlußveranstaltung Abnahme der letzten Aufgaben, Scheinvergabe, Feedback
Proseminar Internet-Werkzeuge - Gruppe II (WS 1998/1999)
21.10.1998 Vorstellung, Einführung und Themenvergabe
Proseminar Internet-Werkzeuge - Gruppe I (WS 1998/1999)
21.10.1998 Vorstellung, Einführung und Themenvergabe
Oberseminar Verteilte Systeme (SS 1998)
09.04.1998 Vorstellung aktueller Forschungsprojekte und der Mitarbeiter der Arbeitsgruppe
Praktikum Praktikum Internet (SS 1998)
06.04.1998 Einführung, Gruppen, Accounts, Konfiguration Netscape HTML Grundlagen Aufgabe 1: Erstellung einer Homepage
11.05.1998
Softwareergonomie und WWW
Fortsetzung Aufgabe 4
18.05.1998 Java Basics
25.05.1998 Java Applets
13.07.1998 Nachbesprechung, Scheinvergabe, Feedback